With the bulk of metaverse rollouts and blockchain gaming structures pumping out on a daily basis, there remains a lot of uncertainty as to how to go about making money from playing blockchain games and navigating the metaverse. In this article, we break it down step by step as to how to get signed up for free on Gamic Guild and start making money from playing games.
Basically, Gamic Guild is an organisation with a business and scholarship structure set up to pay gamers for playing blockchain games and participating in tournaments on the metaverse. All this starts through the Gamic Guild Discord Platform which hosts scholarship opportunities, educational opportunities and everything a person could need on their journey towards earning as a gamer on the metaverse. As of writing, the community has over 5500 members with tens of new members joining every day.
With that said, here are the simple steps to make money with Gamic Guild and Tethan Arena in 2022:
Step #1: Join the Gamic Guild Discord Server
The first step to making money through Gamic Guild is by becoming a member of their Discord Server. To do this, click on the link below to join the server as a member, and from there proceed to get yourself the Interviewing role. Discord Server: https://discord.gg/hymX5huUkW
Step #2: Get the Interviewing role in the #apply channel by responding with the Snow (❄️)Emoji
To get the Interviewing role, head on over to the #apply channel on the Gamic Guild Discord Server, fill in the form at the start of the channel and react with the snow (❄️) emoji to acquire the Interviewing role before getting started with the game
Step #3: Visit the #official-links channel to download Thetan Arena for Android, IOS or PC and Sign Up in the Game
Once you've gotten the Interviewing role on the server, you can proceed to the #official-links channel to download the game on your preferred device. Once downloaded, simply sign up with your email address, verify your account and head on over to start playing the game. Play passed the tutorials and training matches and you would qualify to play ranked matches. Each match runs for no more than 5 minutes.
Step #4: Win 100games/week for 1week as an Interview, and 120 wins/week for 2weeks as a Recruit
Once you've installed and signed up on the game, it is expected of you to win a minimum of 20 games daily or 100 games in a week during the interviewing stage, once you've achieved 100 wins per week, you will automatically progress to the Recruit Realm on Gamic Guild. Once you've reached the Recruit Realm, you are then expected to win 120 games/week for two weeks to progress to the Noble Realm. It is at this stage that you would start earning income from the game.
Step #5: Share screenshots in #daily-screenshot channel and #ranked-screenshot channel
A very important part of your journey to earning from Gamic Guild is to post your daily screenshots and rank up screenshots in the #daily-screenshot and #ranked-screenshot channels respectively. This allows the Gamic team to monitor your progress as a gamer and also rank you up and upgrade your player status. Don't worry if the screenshots in the channel appear many, Gamic have a team fully committed to monitoring your wins, MVPs and ranked growth. So make sure to post your profile screenshots everyday and also post your ranked screenshots whenever you rank up.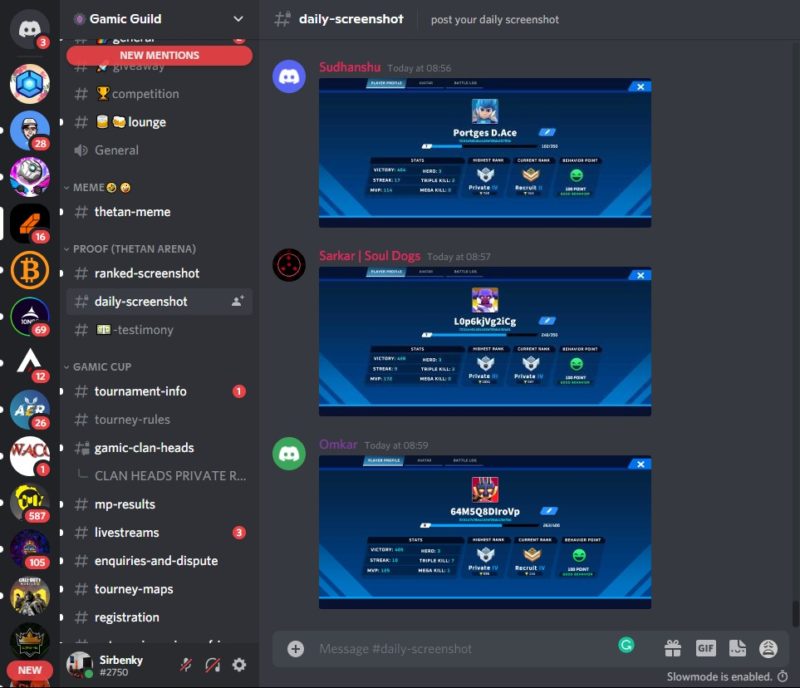 Step #6: Earn ₦10,000 per week in Novel Realm after passing the Recruit Realm
As you continue to win your target number of weekly matches and post your daily screenshots, you will progress from Interviewing Realm to Recruit Realm before reaching the Novel Realm. After passing the 120 wins/week for two weeks in the Recruit Realm on Gamic Guild, you will become a member of the Novel Realm. Being a member of the Novel Realm means you will earn ₦10,000 per week winning 150 games every week. After 3 weeks of meeting your targets in the Novel Realm, you will be considered for promotion to the Free Range Realm based on your win rate compared to other players. Progressing to the Free Range Realm means you can earn up to $1000 per month (₦556,000). Failure to progress means you stay in the Novel Realm earning ₦10,000 per week.
Step #7: High win-rate takes you to the Free Range Realm to Earn up to $1000 monthly
Progressing to the Free Range Realm now qualifies you to earn up to $1000 per month depending on how much you play. Earning at this point is not capped and is passed on a sharing formula. At this stage, players will share their uncapped revenue with Gamic Guild. Players will keep 70% of their total earnings with Gamic Guild taking the remaining 30%. Players in this category will gain access to scholarships and better in-game assets to help improve their earnings. Once again to progress to the Free Range Realm, you need to have a really good win rate in the Novel Realm.
Step #8: Win competitions and refer others to Earn more
Gamic Guild also puts incentives in place to help you earn from the community even whilst still in the Interviewing Realm. A weekly reward of $30 for being the TOP GAMER OF THE WEEK as well as a Referral bonus of $18 each, for the top 10 referees in the community provide means for gamers to make money before and after reaching the Novel Realm plus so much more expected to roll out from Gamic Guild as time goes on.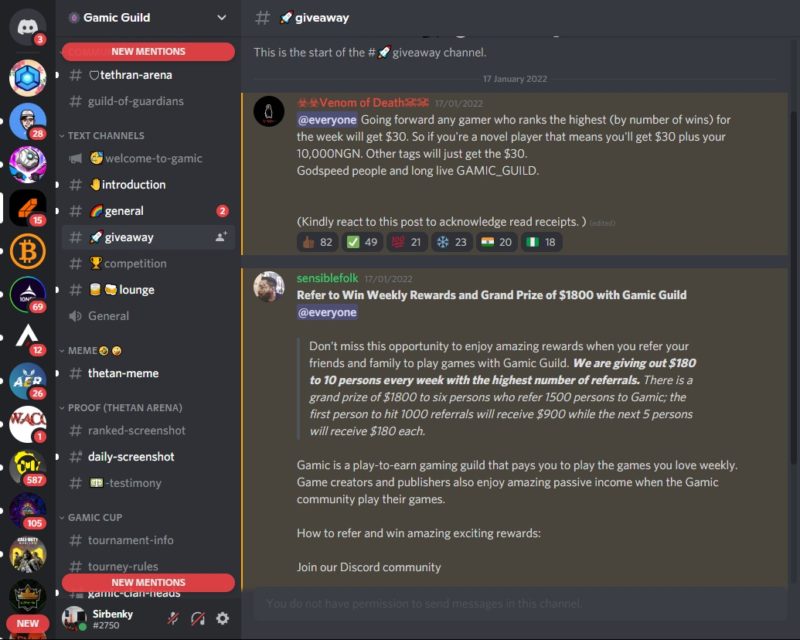 Gamic Guild is not restricted to Nigerians or Africans alone, and players around the world can join Gamic Guild and earn in USDT or Dollars
Start today.
Discord Server: https://discord.gg/hymX5huUkW
Website: https://gamic.app
Twitter: https://twitter.com/gamicguild
Instagram: https://www.instagram.com/gamicguild