It got hotter than July in the Call of Duty Mobile SSA competition scene as allegations, evidences, videos and a lot of talk was going around in the atmosphere during the past weekend.
The player in question, Dakshu, from Cyclone Gaming had made a name for himself in competitions, scrims and even random funrooms, wreaking havoc on anyone that gets close to his crosshair or not *wink wink*. He has been accused of using hacks to play the game and was caught surprisingly by an EU team after dropping some outrageous number of kills against them and watching the clips taken from the match.
Innocent until proven guilty right?


The Republic of Gamers as the forefront organisation of SSA gaming community requested a livestream at 21:00 WAT from Dakshu to give him a chance to clear himself off the accusations but he was and is still nowhere to be found. Thereafter, the ROG began a discussion on their discord server tagged "Hackers in the Community" which hosted a huge number of over 320 people from the community. The platform was used to hear from a lot of individuals, managers and professional players about what their takes were on the issue and possible solutions and preventive measures were also discussed at great length.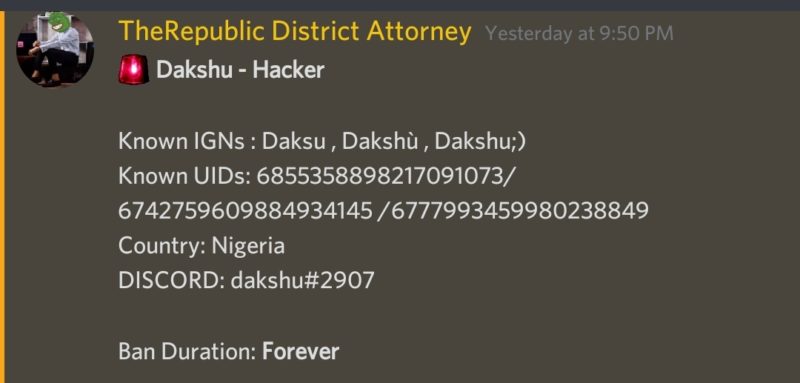 Last night, 14th February 2022, the ROG updated their blacklist on discord server. Dakshu was banned for life from competing in any ROG affiliated event. The owner, managers, players in Cyclone Gaming as being found guilty by association were banned for a duration of 6 months. "Figure" too was banned for life for sharing accounts with a hacker. Also, Allianz Gaming, manager and players who played with Figure, who shared accounts, have been banned for 6 months. Additionally, it is expected that some other gaming organisations will take the same steps.
Hopefully this goes out as a fair warning to everyone in the community to not be found engaging in or associating with anyone having illegalities with regards to the game. The rule books will definitely need an update as well and there should be tight "policing" when it comes to players' registrations and gameplays. The community needs to work together to uphold a clean and fair environment for everyone.